Modern dental patients are blessed with more options than ever when it comes to replacing missing teeth. For some people though, this blessing can feel like a curse because it leaves them unsure about which is really right for them. If you're dealing with indecision about what restorative dental treatment is the best option to reclaim your smile, our Heritage Dental team is happy to help! In this blog post, we break down the differences between two of the most popular treatment options: dental implants vs. dentures.
Pros & Cons of Dental Implants
The biggest advantage to dental implants is how they're permanently fixed in place. Their design mimics a real tooth, which means they're secured into your jawbone. That, in turn, means that you don't have to fuss with taking them in and out, and they'll feel and function just like your other teeth. And like natural teeth, their only maintenance includes daily brushing and flossing and routine dental visits.
The main drawback of dental implants is their cost. It's one of the more expensive options, and if you have to replace multiple teeth with single implants the price can add up. Some patients don't choose implants simply because they want a more affordable option. Other people don't get dental implants because they don't qualify for the surgery due to the state of their oral health or their jawbone is not strong enough.
Pros & Cons of Dentures
Full and partial dentures have long been a cost-effective way of replacing missing teeth. Getting them is also a simpler, shorter, and less invasive process than dental implants because oral surgery isn't required to place them. And, as mentioned, they can be quite affordable, especially if you're someone who needs to replace a whole arch of teeth.
On the other hand, some people can't get over the feel of dentures. They may not ever get used to having the appliance sitting on their gums, especially when they're talking or chewing. Going along with that, they may dislike the inconvenience of having to take them out to clean them every day or they may be worried about their dentures slipping out. However, any slippage can be prevented by stabilizing the dentures with dental implants!
We Can Help You Decide Between Dental Implants vs. Dentures!
If you have more questions about dental implants vs. dentures, reach out to our team for an in-person consultation. At Heritage Dental, we provide both dental implants and dentures, so we'd be happy to give you the answers you need to make an informed decision. Contact us today to schedule your appointment!
The holidays can be stressful enough already with planning travel, getting the whole family together, and cooking big festive meals, to name just a few activities. The last thing you need on your hands is a holiday dental emergency. If, however, that does happen to you, here's what you should do.
Call Your Emergency Dentist
First things first, call your emergency dentist so you can see if they're seeing urgent cases even during the holidays. If they're not, chances are they'll have some sort of instructions in their answering machine about who you can call or what you should do in case of an emergency.
Ask for Help If Traveling
When traveling, the front desk at your hotel or your host family is a great source for recommendations since they are familiar with the area. Shortly after arriving, ask them about a local dentist you could go to if you experience a dental emergency. You won't necessarily want to wait until you return home to get the care you need or else a small problem could become worse and put a damper on the rest of your vacation.
Take Over-the-Counter Pain Medication If Necessary
If your dental emergency is causing you pain, you can take an over-the-counter pain medication like ibuprofen to ease your discomfort. Remember not to put aspirin directly onto your gums near your toothache though, because this can irritate and harm the gum tissue.
Seek Urgent Care for Severe Problems
For life-threatening situations, such as trauma to your jaw, uncontrollable bleeding, extreme facial swelling, and difficulty swallowing or breathing, you should head to your nearest emergency room.
Care for a Holiday Dental Emergency in Katy, TX
As providers of emergency dentistry, we know how overwhelming a dental emergency can be, but we're here to guide you through it. Call us if you're in need of urgent dental care or if you have a question about how to prepare for a holiday dental emergency.
Photo by Dan LeFebvre on Unsplash
The holidays are finally here! If you're a family who puts up stockings, we have some fun stocking stuffers for you to mix things up from your standard fare. Of course, as dental professionals, we couldn't help but suggest stocking stuffers that all have a dental twist. After all, receiving a present and having something that encourages good oral care is a win-win!
1. Unique-Flavored Toothpaste
Mint may be the most popular toothpaste flavor, but it's definitely not the only one out here. There's quite the assortment of flavors, from refreshing ones like cinnamon, orange, and ginger, to crazier ones like cupcake, bacon, and chocolate.
2. Dental-Related Children's Book
If you're stuffing the stocking of a child, you may have already thought about getting them a storybook. So why not get one that can help them develop healthy habits? There are tons of interesting books out there designed around teaching kids how to take care of their teeth and why it's important.
3. Cute Toothbrush Cover or Case
A toothbrush cover or case is a practical gift idea for someone who frequently travels. It's an excellent way to make sure their toothbrush stays clean while it's packed away somewhere away from home, whether that's a foreign country or a friend's sleepover. There are lots of fun colors and designs that your recipient is sure to love.
4. Sugar-Free Gum
Sugar-free chewing gum is always handy to have, and it's the perfect size to slip into a stocking. Be sure any gum you choose is sugar-free so it won't harm your recipient's dental health. In fact, sugar-free gum is good for oral health! It will help freshen their breath, remove food particles, and stimulate the production of saliva for healthy and strong teeth.
Want More Recommendations for Dental Stocking Stuffers?/h2>
If you want to include more dental products as stocking stuffers but aren't quite sure which brands are the best choice, contact our team at Heritage Dental. We can give you our professional recommendations for things like electric toothbrushes and floss, all based on your specific dental needs.
Thanksgiving has come and gone and now the winter holidays are here. And that means you're going to be surrounded by plenty of sweet holiday treats. Our Heritage Dental team is definitely not saying you should cut these goodies out of your life completely, but we do think it's important to remember your dental health even amid all the festivities. As an alternative to the standard cookies, candy, and pies that may increase your likelihood of holiday cavities, we want to offer up some healthy alternatives. Don't worry, these healthy holiday treats are still delicious!
1. Festive Fruit
When it comes to nutrition and oral health, fruit is always a good choice to satisfy your sweet tooth. For a holiday treat, you can make fruit more fun by presenting it in a festive way. For example, make a little snowman out of three banana slices and then top him with a strawberry Santa hat. Cut wedges of watermelon into holiday shapes. Or arrange sliced kiwis, honeydew, blueberries, blackberries, and raspberries into a Christmas tree with ornaments.
2. Cheese Plate
Did you know that cheese is great for dental health because of its calcium and phosphorus content? A beautifully arranged cheese plate makes for a welcome addition to any holiday spread. It's also a clever way to sneak more fruit onto the table since grapes make for the perfect accompaniment to cheese, whole-grain crackers, and nuts.
3. Dark Chocolate
Along with its high amount of antioxidants, dark chocolate also has less sugar than its cousins white and milk chocolate. All of this means that it's a healthier choice for a holiday treat. If you want to make chocolate-covered fruit or nuts, stick with melted dark chocolate.
Share Your Favorite Healthy Holiday Treats with Our Team!
We hope you and your family have a lovely holiday season together. If you need any dental care before you jet off on vacation or before you cozy up for the break at home, reach out to our Heritage Dental team. Or if you have more ideas for healthy holiday treats, we would love your suggestions. Contact us today!
Root canals have a bad reputation, but they are actually a virtually painless procedure that is quite common. In fact, the American Association of Endodontists estimates that 15.1 million root canals are performed annually. Read this blog post to learn about the purpose of root canal therapy. We also discuss signs that may indicate you need this treatment to preserve the health of your teeth.
What Is Root Canal Therapy?
Root canal therapy, or endodontic therapy, is a treatment that targets issues with the innermost section of the tooth beneath the enamel and dentin. During the root canal procedure, the damaged nerve and pulp inside the tooth are removed, and bacteria and infection are cleaned out of the roots. The goal of the procedure is to eliminate pain, prevent the spread of decay and infection, and keep as much of the natural tooth structure as possible.
Why Might I Need Root Canal Treatment?
Endodontic treatment is necessary when a tooth's nerve and pulp become inflamed or infected because of decay or damage. At your routine checkups, we will evaluate if your teeth are healthy or in need of root canal therapy. However, there are some warning signs that commonly indicate a need for the procedure. If you notice any of the following, contact us as soon as possible: a chronic intense toothache; sensitivity to pressure, heat, and cold; discoloration of the affected tooth; swelling; and a pimple-like sore on the gums.
What Do I Need to Know About the Procedure?
There's really no need to dread root canals. They are typically performed in just one or two visits to our office, and you'll be kept comfortable throughout your visit with us thanks to our relaxing patient amenities, anesthesia, and sedation dentistry.
Top-Notch Dental Care in Katy, TX
If you need root canal treatment, do not delay having it done. Contrary to what you may have heard, the procedure isn't scary. It will actually help your tooth pain go away and prevent further issues. Our friendly team will do all we can to help you stay calm and comfortable throughout your visit with us. So if you've been told you need root canal therapy, get in to see us ASAP to protect your oral health. Contact us today!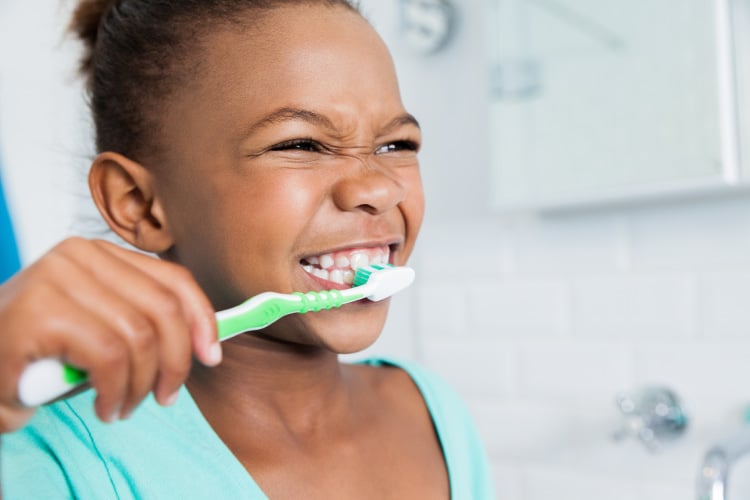 When you feel your little one is physically able and responsible enough to start brushing their own teeth, try to make the experience as enjoyable as possible. Positive dental experiences as a child encourage lifelong adherence to superb oral healthcare habits. To help them follow through and brush effectively, check out these tried-and-true tips for getting kids to brush their teeth. Pretty soon your child will master their tooth-brushing routine!
1. Educate Them
Knowledge is power. If kids understand the benefits of good oral health and the negative consequences of poor brushing, they will be more likely to establish healthy oral hygiene habits. Explain to your child that brushing their teeth keeps their teeth and gums strong and healthy so they can continue to play, have fun, learn, and do their favorite things. In simple language, teach the basics of how the sugar in our diet is eaten by bacteria, or "sugar monsters", in our mouth that need to be brushed away. If they aren't brushed away, we can get stinky breath, yellow teeth, mouth pain, and holes in our teeth, and even lose teeth we aren't supposed to.
2. Brush with Them
Many children learn best by following the example of someone they respect. So make oral care a family activity! By brushing your teeth in front of your child, they will observe your technique and be inspired to follow your lead. Have patience and in time your child will be in the habit of brushing regularly and correctly.
3. Make Brushing Fun
One of the easiest ways to encourage your kid to brush every day is to make it fun! Try some of the following: purchase a kid-friendly electric toothbrush in their favorite color or with a beloved cartoon character; choose a kid-friendly toothpaste flavor like bubblegum or strawberry (but teach them to still spit it out when they're done!); play music or a YouTube video on your phone while they brush; offer small rewards for twice daily brushing, like a sticker chart or an extra story before bedtime; and make their bathroom a comfy space with a cushy rug and decor they like.
The Importance of Preventive Dental Care for Kids
Brushing twice a day for two minutes each time is crucial, but it's not the whole picture. Preventive oral care should also include daily flossing, a balanced diet, plenty of water, an athletic mouthguard for young athletes, and biannual visits to the dentist for a checkup and cleaning. At this routine appointment, we give their teeth and gums a deep clean and examine their mouth for any issues that need treatment. Your kiddo will love our friendly team, TVs with Netflix® in our treatment rooms, and complimentary snacks, drinks, pillows, and blankets. Contact your family dentist in Katy, TX, today and we'll make sure your child's next appointment is on the books.
Unexpected tooth pain should always be addressed by a dentist. It could mean you have advanced tooth decay or a serious infection! But we know you can't always get there instantly. In the meantime, we want to help you stay comfortable until your emergency appointment. Here are our tips to quell tooth pain at home.
1. Ice Pack
It may sound like too simple of a solution, but a cold compress really does work. If you have an ice pack, wrap it up in a cloth and apply it to the area that hurts in 20 minute increments. You can do the same with a bag of frozen veggies, a frozen water bottle, or a baggie of ice cubes. Not only will the ice help numb the pain, but it should also ease any swelling.
2. OTC Pain Medications
Take an over-the-counter pain reliever like ibuprofen or acetaminophen with a full glass of water and food. By using as directed, you should get some much needed relief from the pain and discomfort you've been feeling. For your safety, never take a friend's prescription pain medication!
3. Salty Rinse
A solution of warm, salty water can be a great help if you have any kind of sore or wound in the mouth. Swish gently and the mixture will soothe the pain and help cleanse the affected area.
4. Oral Anesthetic Gel
A pain-relieving ointment–often in the form of a gel–formulated specifically for the mouth is a good thing to have around in case of sudden tooth pain. It can be used to address instances of minor tooth and gum pain, although it's not a long-term solution.
Tooth Pain Relief at Heritage Dental
As we said at the outset, tooth pain should never be ignored. Pain indicates something is wrong that needs treatment. So if you're dealing with pain and/or discomfort in your mouth, we're here to help. We'll have you into our Katy dental office as soon as possible so our expert team can examine your mouth, address the issue, and get you pain-free! Call us today.
If you are in the market for a new dentist for yourself and your family in the Katy area, we invite you to choose our Heritage Dental team to care for your oral health. There are several factors to consider when choosing a new dental home. In this post, we'll talk about several benefits of choosing one family dentist for your household's dental needs.
1. Simplified Scheduling
Parents can easily feel overwhelmed keeping track of everyone's different activities and appointments between all the sporting events, music lessons, play dates, PTA meetings, work calls, grocery shopping, doctor visits, and more. Simplify your life with our comprehensive services at Heritage Dental! Seeing just one dentist makes arranging and keeping track of biannual dental visits a whole lot easier. We try to make scheduling as convenient as possible for your busy family. Utilize our online contact form and extended hours–our office is open until 7:00 PM on Monday and Thursday, and from 8:00 to 2:00 PM on Saturday!
2. Oral Healthcare: A Stress-Free Family Affair
Instead of bouncing between different dental offices for your kids, yourself, your spouse, and even your aging parents, your family can achieve and maintain superb oral health together at our family-oriented one-stop dental office. The continuity of visiting one dental office is great for family camaraderie, but can also help us detect oral health patterns in your family that aid in our treatment, making your visits more efficient and less stressful. At Heritage Dental, we can help every family feel comfortable about visiting the dentist with our calming sedation dentistry, kids' dentistry, and relaxing amenities.
3. Less Chaos After a Dental Emergency
When your whole family visits the same dentist, things are more straightforward when a dental emergency strikes. Everyone will know who to call since there won't be any confusion over who has been seeing which dentist. Make sure our phone number (832-437-5895) and address (23945 Franz Road Suite A, Katy, TX, 77493) are in your contacts!
Your Family Dentist in Katy, TX
For all your family's oral healthcare needs, look no further than Heritage Dental in Katy, TX. We welcome new patients and treat them like family! Contact us today to schedule your first appointment.
Although the majority of Americans have had or will have a cavity in their lifetime, you don't have to follow that statistic! Here, we'll discuss what a cavity is, what causes them, treatment options, and tips for preventing tooth decay.
Tooth Decay 101
Early-stage tooth decay occurs when the enamel, the hard outer protective layer, becomes weakened by acidic byproducts created by bacteria as they consume your dietary sugar. Your enamel's weakened mineral structure will continue to wear away and become permanently damaged if it is not fortified. This results in holes and pits called cavities that allow bacteria to reach the more vulnerable inner parts of the tooth, the dentin and pulp. Untreated decay can lead to serious oral health problems, such as sensitive teeth, bad breath, infection, and tooth loss. Most cavities are hard to see with the naked eye. Because of this, we recommend visiting us every six months. At these regular checkups and cleanings, we'll check your teeth for tooth decay and cavities using dental X-rays and special tools.
Tooth Decay Treatment
Treatment for decay depends on its severity. Fortunately, weakened enamel can often be strengthened by improved oral hygiene, in-office fluoride treatments, and consuming tap water and tooth-strengthening foods. But when the decay can't be reversed, the damage will need to be removed and the tooth's integrity repaired with either a filling or root canal therapy. And if the tooth is not strong enough after treatment, you'll receive a custom-fitted crown to restore strength and function.
Cavity Prevention Tips
Improve Your Daily Oral Hygiene
Maintain good oral hygiene every day by brushing with a fluoridated toothpaste and soft-bristled toothbrush twice a day for two minutes each time and flossing every day. Otherwise, you are putting your teeth at risk for tooth decay. Daily cleaning of your teeth, gums, and tongue helps keep your mouth protected from bad bacteria, enamel-destroying acids, and leftover food particles.
Consume a Balanced Diet
Your diet very closely impacts your oral health. For example, a diet high in processed carbohydrates and sugar will increase the risk of tooth decay. Drink plenty of water and consume a variety of nutritious foods, with emphasis on fresh vegetables and calcium-rich foods. Chew only sugar-free gum and avoid tobacco products. Additionally, learn to moderate your intake of foods and beverages like alcohol, soda, juice, candy, chips, cake, cookies, processed snacks, and sports drinks.
Heritage Dental Can Help You Stay Cavity-Free!
It's also important to come in regularly for checkups and cleanings to prevent tooth decay. Contact us today to schedule your next appointment.
If you have spots on your tongue, you may be wondering what's going on. Here, we'll explain a few potential reasons why you might have spots on your tongue.
1. Canker Sores
If you see a white spot that is surrounded by an inflamed-looking red ring, chances are good that it is a canker sore. These mouth ulcers can show up on their own or with some friends anywhere inside the mouth, including the tongue. They vary in size, duration, and pain level. Depending on its severity, we may be able to treat your cancer sore with laser dentistry. Although much of their etiology is unknown, canker sores can be caused by bacteria, viruses, an acidic diet, an autoimmune disorder, and certain medications. Other factors that may make you more susceptible to canker sores include allergies, stress, smoking, and nutritional deficiencies.
2. Oral Thrush
White, creamy-looking lesions on your tongue indicate oral thrush, an overgrowth of a naturally-occurring fungus called Candida albicans in your mouth. You'll often temporarily lose your sense of taste and feel like you have a dry mouth. Treatment involves antifungal medication and consuming unsweetened yogurt. Oral thrush often pops up when the immune system is immature or depressed. High-risk individuals include babies, denture wearers, smokers, and patients with anemia, diabetes, chronic dry mouth, and immune-compromising diseases.
3. Leukoplakia
Leukoplakia are thick, hardened patches of white or gray on the tongue that commonly occur due to chewing tobacco, smoking, and drinking alcohol. Stopping these activities may clear up the patches, but sometimes other intervention is needed, particularly if the patches are deemed pre-cancerous. The Epstein-Barr virus can also cause fuzzy white patches of oral hairy leukoplakia.
4. Tongue Cancer
Dark patches on the tongue could be a sign of cancer. The spots could also show up as scabs or sores that don't heal. Other red flags for tongue cancer include swelling, lumps, and difficulty swallowing. At your routine checkups, we screen for oral cancer because the sooner it can be treated, the better the prognosis.
Schedule a Dental Checkup in Katy, TX
Let us know if you suspect any of these conditions or notice other abnormal changes in your oral health. We can determine what the spots are and the best course of treatment. Call us as soon as possible to make an appointment!